3 Things To Consider When Replacing Your Doors In Central MA
When Looking For That Perfect Door, Keep The Following In Mind.
New entry doors and patio doors can provide a number of benefits for Central MA homes like yours. Enhanced curb appeal. Better energy efficiency. Improved security. And more.
That said, there is no "one-size-fits-all" door solution that's right for every homeowner. Different homeowners have varying tastes, needs, and budgets. So it's important to do your due diligence to find the doors that check all the boxes on your wish list.
This article is designed to help. Below, you'll find three of the most important elements to getting quality door replacement in Boston and Central MA.
And The Best Replacement Door Material Is…
Patio doors and entry doors both come in a variety of materials. Picking the right material for YOUR project depends on your specific goals.
For example: If you want a secure, energy efficient, low-maintenance entry door, you may want to consider fiberglass or steel over wood. Fiberglass and steel entry doors can come with insulated cores for enhanced energy efficiency. Plus, they require less upkeep than wood entry doors and are typically less expensive.
When it comes to patio door material, most homeowners opt for vinyl, wood, or fiberglass. Vinyl provides exceptional efficiency, performance, and curb appeal for the value. It's also one of the patio door materials that require the least amount of maintenance. That said, there are also patio doors made of materials like fiberglass and wood. These are typically a bit pricier than vinyl. And in the case of wood, more maintenance-heavy.
How To Select A Replacement Door With Style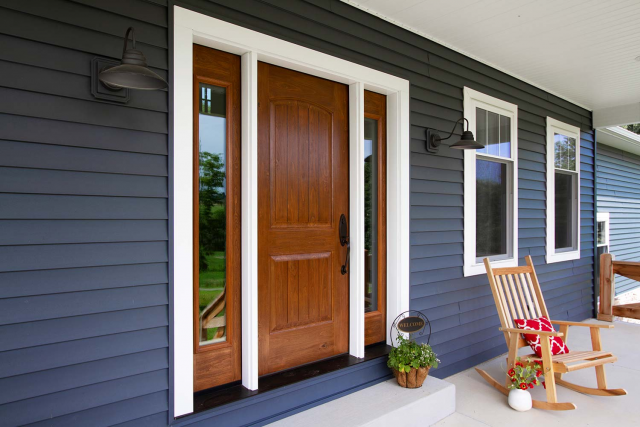 Entry doors and patio doors have distinct style options. Which options you choose can affect the price of the project and the overall curb appeal.
Entry doors come in many styles and with many options. From accessories to the staining to optional glass in the door, you have a whole host of aesthetic-boosting options at your disposal. Additionally, some style options are tied into the material. For example, fiberglass entry doors can reproduce the look of wood entry doors, while steel entry doors cannot.
When it comes to patio doors, you've got two main style options: swinging (hinged) patio doors and sliding patio doors. Sliding patio doors are a great option if you have limited space in your home because they don't swing open. Just like with entry doors, patio doors—whether sliding or swinging—come with a variety of accessory and decorative options.
The style-selection process can be daunting. A great contractor will explore your style options with you to find the right solution within your budget.
The Importance Of Choosing The Right Installer
Installation is the final piece of the puzzle in door replacement—and it's a piece so big it can make or break the overall project.
This is why you want a reputable door contractor with excellent customer reviews, certified installers, plenty of experience, and genuine warranties. These kinds of door contractors know exactly what it takes to do the project exactly right the first time.
For help finding a reputable contractor, read this article: Anatomy Of A Remodeling Sales Gangster. You'll discover some ways to determine whether you can TRULY trust a contractor you're considering.
What To Do Next
If you need door replacement in Central MA, contact us to schedule an in-home appointment or virtual consultation. We can help you through the selection process to get you doors that check every box on your wish list (and fall within budget). We can then replace your doors with precision installation that maximizes their performance and efficiency.
We would be honored to discuss your project with you.
Other Home Improvement Articles You May Find Interesting