Which Home Improvements Add The Most Value?
As a homeowner, it's good to look to the future when considering a major home improvement project. Not every improvement you make will add value to your home, and some, like themed rooms, will even detract from your home's resale value. However, there are a handful of home improvements that will always add to the asking price of your home.
Curb Appeal
Curb appeal, according to realtors, is the number one factor in buying decisions. Without it, most home buyers won't even give your home a second look. Curb appeal, for those not in the know, is everything one can see from the curb. Roofs, siding, windows, and doors are the biggies, along with landscaping.
Smart home buyers look past the things they might love about a house to consider what it will cost to get the house in perfect working order with maximum visual appeal. Any major projects that have already been handled are a huge plus to homebuyers, and they will gladly pay more for the luxury of avoiding the hassle.
Roofs – ROI 100+%
For pure impact, you can't go wrong with a new roof. The visual footprint is massive, and your roof is the first thing that a homebuyer will see when they drive past your home. A tired-looking roof will send them on their way, while a new roof will make them instantly comfortable.
Besides the aesthetic appeal, a new roof eliminates the worry of buying a house with big repairs waiting down the road. In addition, it is difficult to gauge a roof's condition once it has aged even a few years, so a nice, new roof can speak volumes.
Siding – ROI 75 – 83%
Siding is next in line for visual impact. Siding that looks rough or simply old hints at poor home maintenance and leads to nervous homebuyers. However, new siding of decent quality has the same effect as putting on a suit does for the usually shabby. You forget to notice the flaws and see only the good fit and excellent material.
You can go for many different looks with modern siding. For example, fiber cement siding is incredibly flexible and can imitate many far more expensive forms of siding in a convincing fashion.
Windows- ROI 75 – 80%
Well-maintained original windows can look amazing, but only if they've been taken care of properly and they were gorgeous to begin with. Outside of that, original windows will never look anything but dated, at best. If they have any functional issues, your home's value will plummet in a buyer's eyes.
In contrast, new quality windows have the opposite effect – in spades.
Windows are a notoriously expensive home improvement project that every homebuyer is anxious to avoid. And while windows don't recoup your investment as faithfully as other improvements, they will make your home much easier to sell. All other things being equal, a homebuyer will gladly pay a little more for a home with new windows over a less expensive home with old windows.
The Front Door – ROI 75+%
Your front door says a lot about how well your home has been maintained. First impressions are revised once someone reaches your front door. If your roof, windows, siding, and yard are immaculate, a rough-looking front door will erase all those good thoughts in a hurry. Think of it as looking your house in the eyes. Either you like what you see, or you don't, and nothing else will change your mind.
A beautiful, new front door is welcoming and proudly states, "Yeah, we take care of our home."
The Allure Of Energy Efficiency.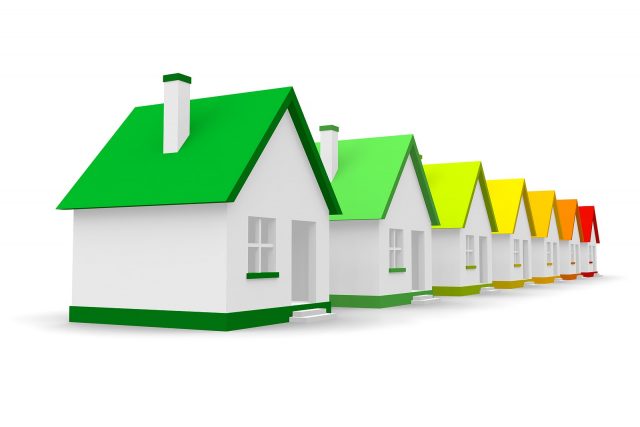 Not all home improvements are feasts for the eyes but instead appeal to the emotions of homebuyers. The largest block of homebuyers in today's market are in their 30s, and they care deeply about things like energy efficiency and carbon footprints.
Energy-Efficient Home Improvements.
Energy efficiency is about how much you need as much as it is about how much you use. Energy Star appliances are a nice step, but there are more effective ways to reduce your home's carbon footprint, such as:
High-Efficiency Windows – there are multiple window technologies available to reduce the impact of the elements on your indoor comfort. For example, UV blocking films, multi-paned windows with special gases between the panes, fiberglass frames that offer better seals, and even films that let heat in during the winter and keep it out during the summer. All of these help to reduce the need to run your HVAC system.
High-Efficiency Doors – your front door is one of the major causes of heat loss in your home. Modern doors are designed to reverse that fact, with them increasing your home's temperature efficiency – a boon instead of a problem.
Cool Roofs – installing a cool roof (one that reflects away most of the sun's energy) will immediately make your home easier to cool and lower your carbon footprint. They are even friendly to your neighborhood as a whole, reducing the amount of heat released into the air as opposed to that from a standard roof.
Intelligent HVAC Systems – Modern HVAC systems are well over 90% efficient, using multi-speed fans and multiple sensors to control where, when, and how much cooling or heating is needed in your home.
Any effort you make to reduce your home's carbon footprint will make it more desirable to the younger set. They don't just want a nice home; they want one that makes them feel like they are helping the planet by living there. Anything that you do that reinforces that feeling will increase your home's value to the most important buyers in the market. If you are thinking of selling your Central Massachusetts area home and want to increase its market appeal, contact us at Solid State Construction for a free consultation.