How To Find Out Which Style Of Roof You Have
Roofs come in many varieties, but there are just two main styles that dictate what type of roofing is best for your home. Your roof is going to be either sloped or flat, which is fairly simple to tell apart.
Roof Styles.
Your two options, sloped and flat, lend themselves best to different types of roofing material. For example, sloped roofs work best with shingled materials and standing seam metal roofing, while flat roofs are best coated with rubber or rubber-like materials.
Sloped Roofs
Sloped roofs are best for areas with heavy rain or snow because they can easily shed water from their surface. There are many types of sloped roofs, but they all contain a pitch of at least 3/12. That means that the roof surface raises at least three inches for every 12 inches of length.
Shingle Roofing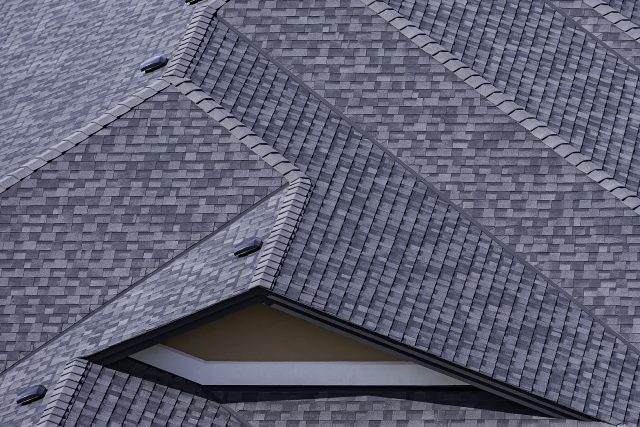 Shingle roofing is the most popular material for a sloped roof due to its flexibility of design and the many available types, such as:
Asphalt Shingles – The most common type of roofing, asphalt shingles come in a vast selection of colors, styles, and qualities.
Architectural Shingles – Architectural shingles are also made with asphalt but are much more durable and have various looks available. Some types can even mimic more expensive types of roofing, such as slate or wooden tiles.
Cement Fiber Tiles – Highly durable cement fiber tiles can mimic other roofing materials and are more durable than all but the most expensive architectural shingles.
Wood Shingles (Shake) – wood shingles are extremely long-lived at 50+ years but require frequent maintenance to maintain their look and durability.
Slate Tiles – Slate is as durable (100+years) as it is expensive. However, the cost is offset by only having to install it once in your lifetime and the absolutely gorgeous look of a slate roof.
Metal Roofing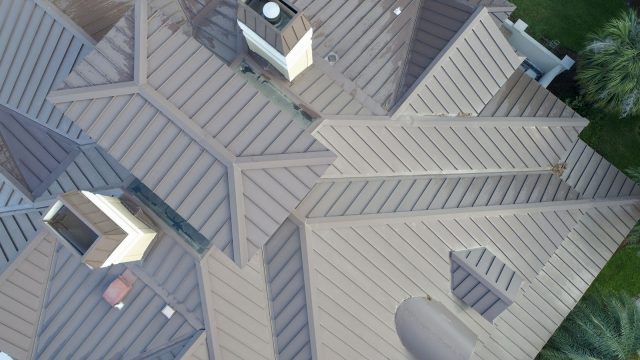 Metal roofs are becoming more and more popular due to their fantastic durability (well over 50 years) and the stunning lines of standing seam panels. If the dramatic look of standing seam panels isn't for you, you can still get the durability of metal with the look of any of the standard types of shingles.
You can find metal tiles that mimic slate, wood shake, or even clay tiles. You can also find metal shingles that have a look all their own. Metal roofing has truly come into its own, with new looks and features announced almost every year.
Whatever look you want can be had with the many types of roof shingles available today and in almost any color. If you can imagine it, there's a good chance it can be done to your roof.
Flat Roofs.
Flat roofs are most commonly found on commercial buildings and are rarely used on residential housing except in arid climates. Flat roofs, despite the name, are always angled slightly to allow water to run off in one direction or another. We call them flat because this mild slope is so small that they look flat to our eyes. Flat roofs use rubber, foam, or coated foam to protect their surface from the elements and the power of the sun's rays.
TPO
The white roofs you see on so many commercial buildings are most likely coated with TPO or Thermoplastic Polyolefin, a rubber compound with high durability and great energy efficiency properties but can shrink over time.
As TPO roofing shrinks, seals are broken, allowing water to reach the roof, which is never good. Owners can either repair or replace the roofing material at that point, but they can't ignore the problem without dire effects on the rest of the building.
EPDM
The black roofs you see are usually made of EPDM or ethylene propylene diene monomer. This dark material is more closely related to true rubber and is much more durable when facing inclement weather and the ravages of time.
Green Roofs.
Green roofs are sealed against any water incursion, covered, and then topped with soil. The soil is then used to grow crops as an urban garden, create a small grove for relaxing, or just as the base for a nice rooftop lawn.
Green roofs aren't just pretty, though; they are excellent insulators for the building below and completely nullify the effects of the sun's rays on the roof itself.
Whether slant or flat, your roof is an essential part of your building and needs annual maintenance and inspections to last as long as you want it to. A well-cared-for roof will almost always outlive your expectations.
If you have concerns about your Central Massachusetts home or business roof, contact us at Solid State Construction for a free consultation.