Paint Deck Or Stain Deck: Which Is Best?
To get the most satisfactory protection for your deck, discover what distinguishes two popular finishes, paint vs. stain, and choose the appropriate one.
The deck is the perfect outdoor living space. It allows you to enjoy your garden, entertain guests or relax with a glass of wine in hand. But are you getting the most out of your deck? A lot of people have doubts about whether they should stain or paint their decks. Let's dive right into it!
Staining Your Deck
There are many reasons to stain your deck, but what exactly is the significance of doing so. What does it mean? Staining your deck is the process of applying a pigment, stain, or paint to the wooden parts of your structure. The color that results from this provides an attractive finish that helps protect against wear and tear on your beloved deck.
Pros Of Deck Stain
These are benefits that come along when staining:
Staining your deck allows you to use a color that is more natural and close to nature. You can choose from a whole range of colors, including white, grey, and various shades of brown.
A good stain will seal the wood grain, preventing dampness from entering your deck and causing it to decay.
Slick stains, on the other hand, are a bit of an exception. For the most part, they're flatter and produce a less slippery surface than a thick, high-quality paint job.
Cons Of Deck Stain
It will only last for a handful of years. A deck's lifespan is usually one year. On average, it must be stained once every other year. Painting a deck rather than staining it is less likely to cause damage. In the long run, a good paint job will outlast a solid deck stain. Oil-based semi-transparent stains, on the other hand, may survive for three to five years.
It does not correct or fill cracks. A wooden deck may be painted to hide flaws and close small cracks and grooves. Although stain may be used to repair cracks and splinters, it is thinner than paint and won't fill in gaps or splinters.
Some premium woods, however, do not retain stains well. Tropical hardwoods are lovely on decks, but they're pretty dense and don't stain well. If you're dedicated to staining your hardwoods, it's understandable, given their natural beauty — consider purchasing an oil-based penetrating stain.
Painting Your Deck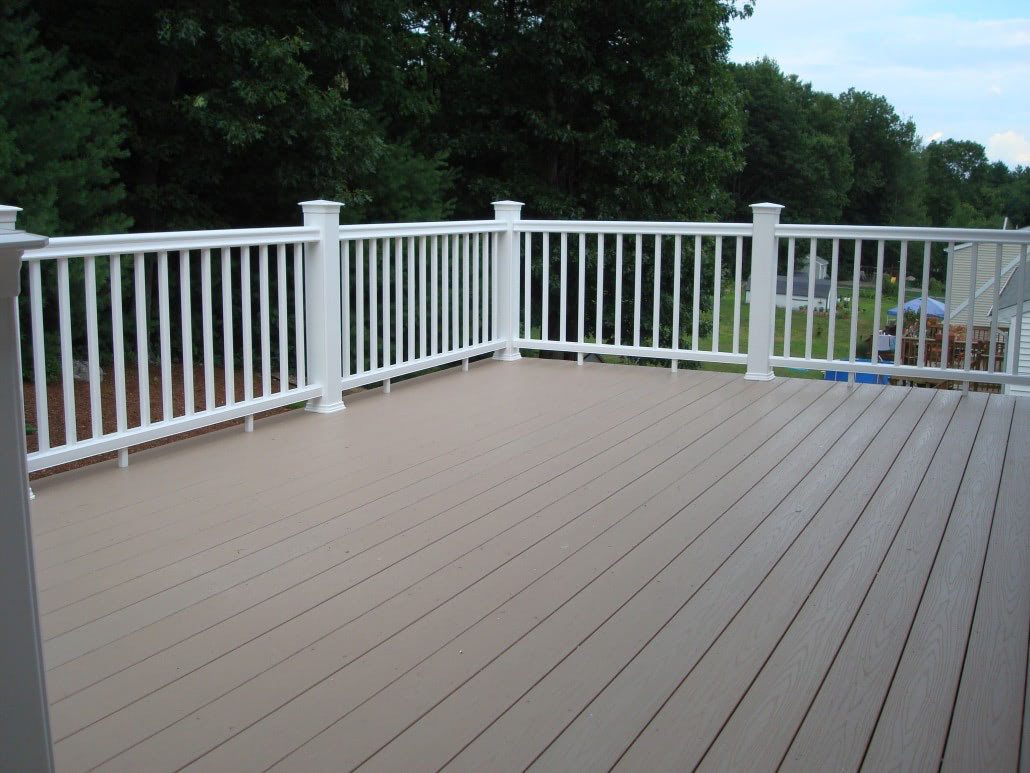 Painting a deck is an easier and quicker process than staining it. The color of the paint will remain true as long as you maintain it regularly. Painting is a great option if you are not pleased with the appearance of the grain on the wooden deck. It will go down in a much more uniform way but know that over time that uniform application will chip and crack and need to be repainted.
Pros Of Painting Your Deck
If you want to paint your deck, you won't have to refinish it for a long time. A decent paint job, executed by a competent expert, may endure ten years before requiring refinishing.
A great imperfection concealer. If you have an older or weathered deck, painting it will be a great option as it can hide cracks, etc. Perfect if your deck is towards the end of it's life.
A variety of color options for you to choose that appeal to your style. Often homeowners opt to paint their decks to bring uniformity to the exterior of the home.
Cons Of Painting Your Deck
Chipping and peeling will be in your future. Painting your deck will trap moisture in the wood, not allowing it to breathe, which will cause shrinking and expanding, which leads to chipping and peeling.
The reason you got a wooden deck was to show off the wood. If you paint the wood, the natural beauty of the wood will be masked.
It is semi-permanent. You can go from stain to paint easily. To go from paint to stain will be very time-consuming and costly. So choose WISELY.
Now we have looked at both the pros and cons of staining and painting your deck. You might still be at the crossroads of what to do. What is right for one person may not be the best choice for you. Consider what is most important to you, but remember that with any option comes a cost.
Is It Preferable To Paint Or Stain A Deck?
The most significant difference between the two is in price and color choice. The cost to stain your deck ranges from $20 to $40 a gallon – obviously, depending on how big your deck is will determine the amount you will need—making stain a more budget-friendly option. Painting your deck ranges from $30-$60 a gallon, as well as factoring in more money if you need a primer or resurfacer. Most stains have a preservative, which means that a primer is not required.
Regardless of what you choose, these are the facts; either paint or stain is a matter of preference. So there is no right or wrong answer; it is what works for your home. The truth is, without making a choice, your precious investment in your deck left unprotected will most likely fade and lose its beauty over time.
Painting or staining a deck is one of the most effective ways to keep it looking great for a long time. Ensuring your home and deck's long life and curb appeal are top priorities when adding value to both. If you are still unsure whether to paint or stain your deck, the pros and cons above hopefully will help guide you in making this decision.
Contact Solid State Construction For Your Exterior Needs And Questions.
Consider Solid State Construction if you're thinking of upgrading your home's exterior. Our mission at Solid State Construction is to reinvent the home-remodeling experience for a modern homeowner like you. We are enthusiastic about making your home into a world-class residence.
We provide a variety of services that go well beyond paint or stain applications. We believe in collaborating with you until you discover what best meets your needs. Our team members have the expertise to create a stunning house exterior that matches your specifications.
If you're having trouble finding what's best for your needs or need some help getting started with other aspects, contact us!
We offer free virtual consultations to walk through your options so that we can find out more about how our services might be able to help improve the curb appeal and value of your property.