5 Words You Can Expect To See When Perusing Solid State's Google Reviews
Here Are The Terms You'll See Over And Over (And Over And Over…) Again!
BY JEFF BROOKS, OWNER
If you're like everyone else on the planet, you've checked out a company's Google reviews before deciding to do business with them.
A really handy feature of Google's reviews is the "People Often Mention" (POM) tool. It shows the terms a company's customers use most often in their reviews.
Here's an example: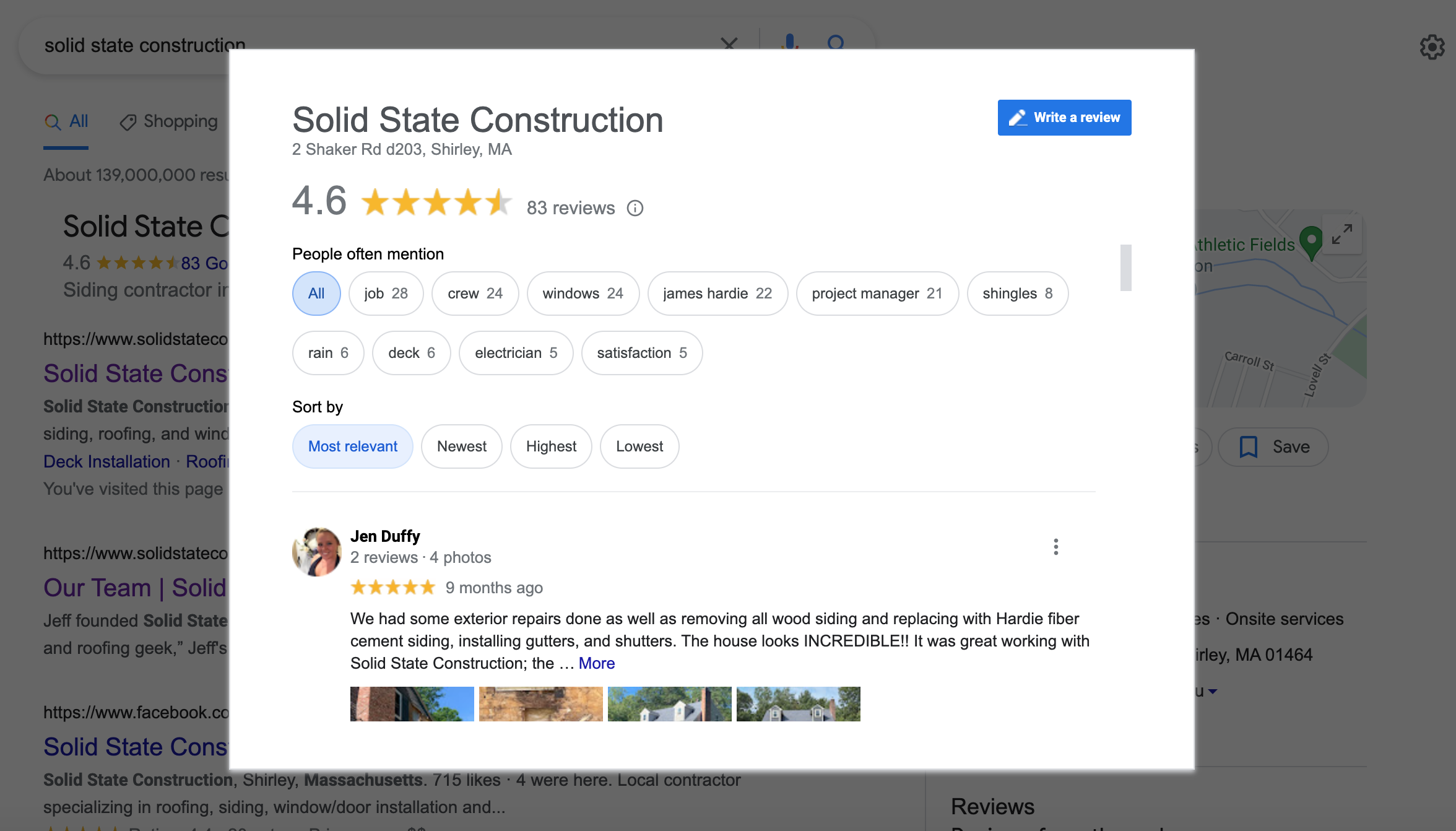 This is an excellent way to quickly see what a company's customers think about them. You can even click specific POM words to filter all of the reviews that include that specific term.
So… what POM terms will you see when you view Solid State Construction's reviews?
Here are 5 of them:
Job
Crew
James Hardie
Project Manager
Satisfaction
Since some of these terms are a little vague on their own, let's explore them in the context of our actual reviews.
Term #1: "Job"
The word "job" isn't particularly descriptive. It could relate to a dozen different things. But when you look at the adjectives in front of "job" in our customer reviews, you see the full story. Take a look…
Review Samples:
"[Solid State Construction] did an absolutely beautiful job on our James Hardie siding, new doors, and custom-built front door surround." 
—
"Unlike most contractors, they started and finished when they said they would and did a great job cleaning up!"
—
"They kept me informed, did an amazing job on my crooked old house, their employees were professional, exceedingly friendly, and I couldn't have asked for a better company."
Term #2: "Crew"
No matter which service we provide Central MA homeowners, we always send a crew of remodeling rockstars to get the job done. It's why the term "crew" takes the second spot on our POM list.
Review Samples:
"The crew assigned to our project from start to finish was professional, knowledgeable, and reliable." 
—
"The foreman, Johnny, and his crew were wonderful. Their attention to detail was so appreciated, and they were pleasant to have around." 
—
"The work crew and the Owner, Jeff, listened to our questions and concerns before, throughout, and after the project had finished and made sure we were satisfied with how everything had turned out."
Term #3: "James Hardie"
Surprise, surprise!
As the leading James Hardie installer in the northeastern U.S.A., we have a lot of reviews that mention Hardie siding. (Frankly, I'd be worried if we didn't!)
Hardie fiber cement siding is tough, long-lasting, and perfect for the harsh weather that Massachusetts homeowners deal with. When you combine Hardie siding with our nerdy obsession with installation details, you get a winning recipe… and tons of happy customers.
Review Samples:
"The siding and deck project they did for me just keeps getting compliments. Deep Ocean [colored] Hardie Siding really looks amazing." 
—
"Solid State recently installed James Hardie siding on my 55-year-old house. The transformation is amazing. The house looks brand new."
—
"We hired Solid State to do our siding project – and we're so glad we did! They installed James Hardie siding and trim on the whole house and installed gutters." 
Term #4: "Project Manager"
The next most frequently used term is "Project Manager" — and we're extremely proud of ours (you can learn more on Our Team page). Each exterior remodeling project is assigned a specific Project Manager who makes sure everything goes smoothly — from the initial consultation to the final walkthrough. They're the "captains of the ship" who make sure projects sail smoothly from start to finish.
Review Samples:
"The Project Manager did a great job of keeping me informed during the project, and the work crew did a great job cleaning up at the end. I would highly recommend them." 
—
"Our project manager on the ground was extremely involved on a daily basis to help move the project forward. The execution was flawless!"
—
"The work areas were cleaned after each day, and for the few minor issues that arose, the Project manager was available via cell phone and would arrive to ensure that the crew was on-point with what needed to be done."
Term #5: "Satisfaction"
Last but certainly not least is "satisfaction." For an exterior remodeler, the "S" word is one of the most rewarding terms a customer can leave in a review. It's written confirmation that the mission (delivering world-class remodeling results) was categorically accomplished.
Review Samples:
"A consummate professional and committed to complete customer satisfaction. I highly recommend Solid State for any project."
—
"All of the work was done promptly on schedule with a focus on our satisfaction with the results."
—
"The Director Of Customer Satisfaction came out and brought me some great coffee mugs, which I use whenever I drive… she is a very warm and sincere person who is very invested in ensuring the customers are pleased with the work." 
Do We Truly "Walk" Our Customers' Talk? Find Out For Yourself…
You've got a ton of options when it comes to exterior remodeling contractors in Greater Boston. But few have the same amount of raving fans we have.
See if what they say about us is true. Contact us today to schedule an in-home appointment… or set up a convenient time for your virtual consultation!