What You Need To Know To Ensure You Get The Windows
With The Best Thermal Performance.
BY JEFF BROOKS, OWNER
If you need new windows, one of the things you want most from them is ENERGY EFFICIENCY. After all, we get some pretty brutal weather in Central MA. Energy efficient windows are an excellent way to keep your home comfortable and cut your energy costs.
But what, exactly, is an energy efficient window? How do you know if a window is TRULY going to curb your energy use?
Don't worry. How to spot an energy efficient window is actually simple.
All You Need To Know Is On The Window's NFRC Label
The National Fenestration Rating Council (NFRC) is an independent nonprofit association that rates window energy efficiency. Any window that's gone through NFRC testing has an NFRC-Certified label attached to it.
Here's what the label looks like: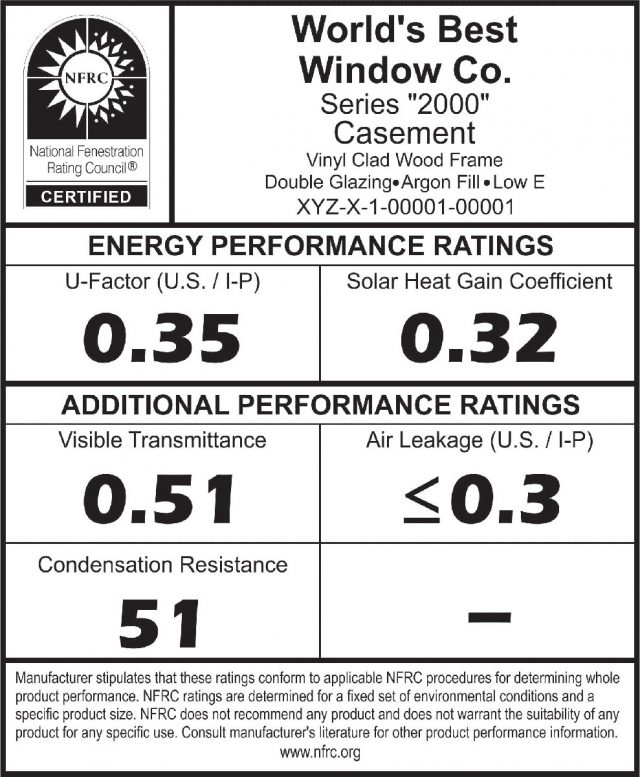 If you've already started researching windows for your home, you've probably seen this label. Any window that has it is off to a good start; it means the window has officially undergone NFRC testing.
But…
Just because a window has this label does NOT automatically mean it is sufficiently energy efficient.
See all those numbers on the label? Each one rates a different aspect of a window's energy efficiency. Depending on where you live, the individual ratings vary in importance.
For example, U-Factor is the most vital rating for cold climates on the East Coast. But for homeowners living on the warm West Coast, Solar Heat Gain Coefficient is the most important rating.
So… what do these ratings actually mean? And what's a good "numerical score" for each energy category?
The answer to the second question depends on standards set by ENERGY STAR, the U.S. government's official program for promoting energy efficiency. ENERGY STAR outlines specific energy requirements for windows based on a region's climate. If a window meets or exceeds the requirements, it's recognized as ENERGY STAR-certified.
Let's explore each rating and determine the optimal efficiency numbers for the Central MA climate.
How To Read A Window's NFRC Energy Label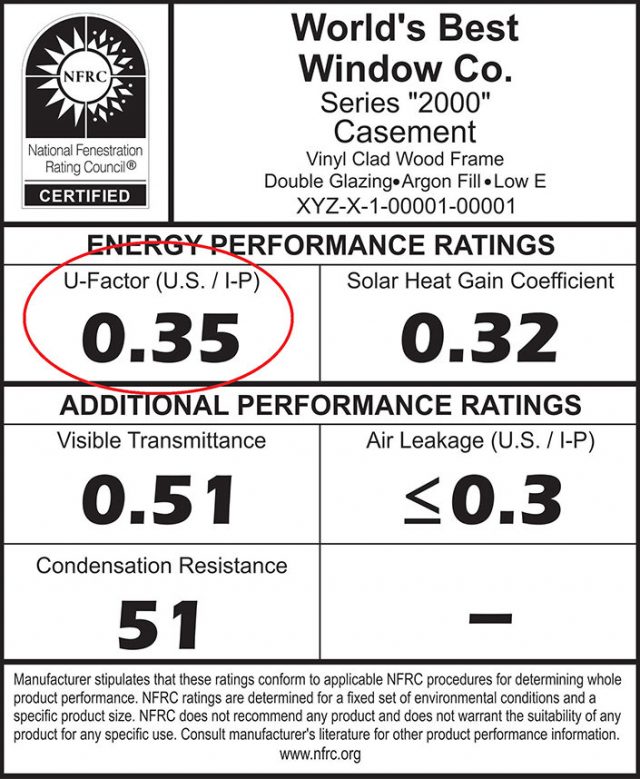 U-Factor
U-Factor rates the insulating value of the entire window on a scale from 0 to 1. The lower the number, the better the window is at retaining your home's heat.
To qualify for ENERGY STAR certification in Central MA, a window must have a U-Factor of 0.30. Ideally, you want a window with a U-Factor of 0.27 or lower to maximize energy performance. That's why we install windows custom-tailored for the Central MA climate that can achieve a U-Factor as low as 0.16.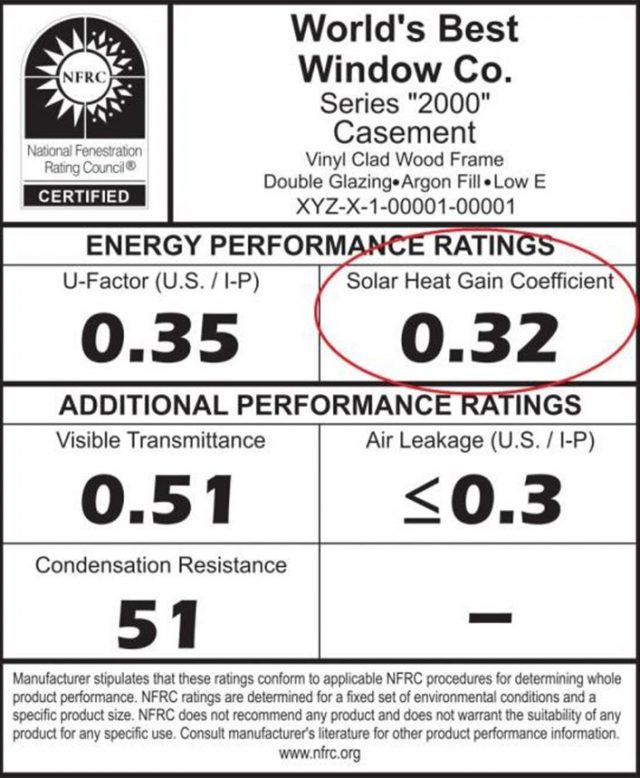 Solar Heat Gain Coefficient (SHGC)
SHGC rates the amount of solar heat that passes through the window's glass on a scale of 0 to 1. The lower the number, the better the window glass is at blocking excess heat from the sun.
SHGC is most important in warm climates on the West Coast. But it's also significant in our region during the summer to keep your air conditioning bills low. ENERGY STAR-certified windows in Central MA have an SHGC rating of 0.42 or lower. Our windows can achieve an SHGC rating as low as 0.19!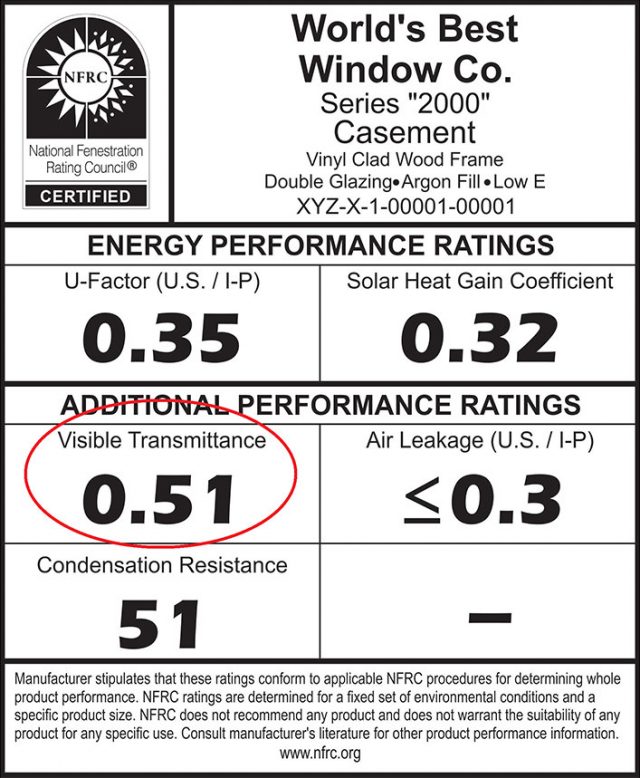 Visible Transmittance (VT)
VT rates the amount of visible light that passes through the window glass. The higher the number, the more natural light the glass lets in.
VT partly depends on the glass package in your windows. Triple-pane windows tend to have a lower VT rating than double-pane windows because of the added glass. Most windows rate between 0.30 and 0.70. Outside of this, there isn't an "ideal" VT rating. It really comes down to personal preference. Do you want maximum natural light? Maximum energy efficiency? Or a window somewhere in the middle?
Air Infiltration (AI)
AI rates how much air enters and escapes a square foot of window on a scale of 0 to 1. The lower the number, the better the window prevents air penetration.
For optimal performance, choose windows with an AI rating of 0.30 or lower. The best of the best airtight windows have an AI rating of 0.10 or less. Some of our windows even rate 0.01!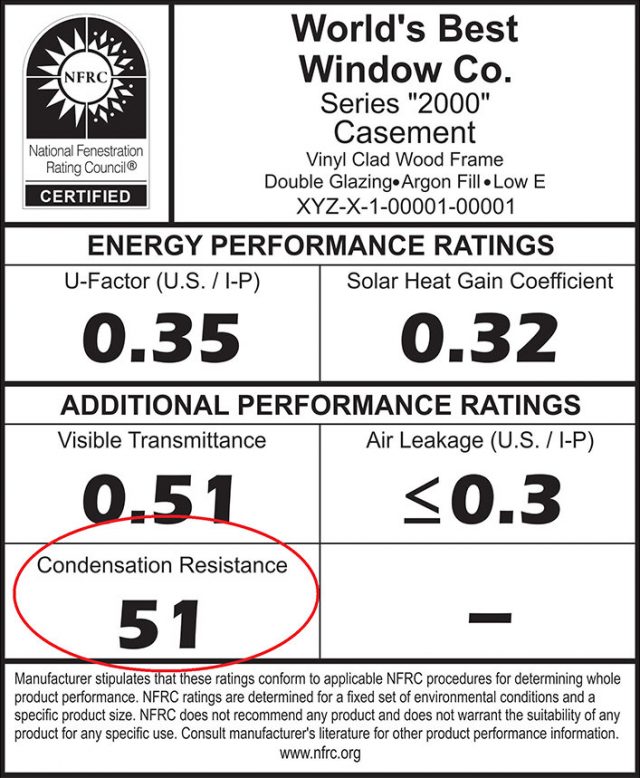 Condensation Resistance (CR)
CR rates how well a window resists condensation on a scale of 1 to 100. The higher the number, the better the window's glass is at condensation resistance.
You want a window with at least a CR rating of 50. Top-performing windows (like ours!) have CR ratings that score into the 70s.
Want More Info About Energy Efficiency? Reach Out Today
I hope you found this little breakdown of the NFRC label helpful. If you have any more questions—or want a free quote on some seriously energy efficient windows—then contact us today.