3 GLOWING Reviews From Recent Past Customers… With Before & After Photos!
These Homeowners Were Blown Away By Our Results… And We've Got Pictures To Prove It.
BY JEFF BROOKS, OWNER
For nearly two decades, we've transformed hundreds of homes in the Greater Boston area. From new windows to new siding to full-blown, head-to-toe makeovers, we're Central MA's one-stop shop for extraordinary exterior remodeling results.
Here's a little sample of what's possible:
Our nerd-fueled passion for giving families their dream homes shows in our craftsmanship and work ethic. And that passion doesn't go unnoticed by our customers!
Bragging is unbecoming (naturally). However, I have to admit it: When you explore our online reviews, you'll see that our customers are fanatical about sharing the results we delivered for them.
But don't take my word for it — take THEIR word for it. Read these recent online reviews recent customers wrote about their Solid State Construction experience. They were even gracious enough to share photos of their projects!
Review #1: Jen's Exterior Repair & Siding Installation
This was the unfortunate state of Jen's home before contacting us to come to the rescue: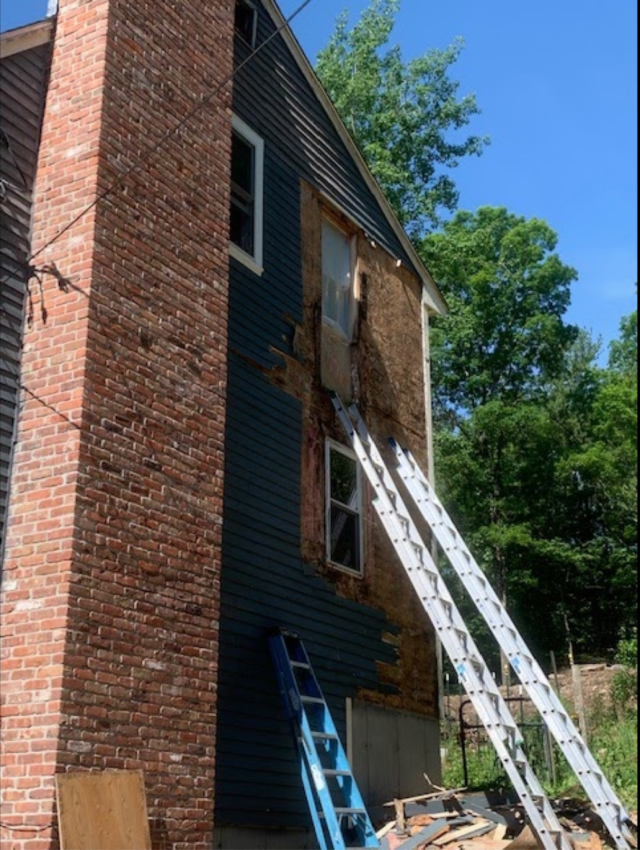 On the right side of the home, Jen's wood siding was completely rotted and falling apart. While wood siding looks beautiful, it can eventually rot away from moisture and lack of maintenance. This is especially true in Massachusetts, where it rains liberally (great for plants—not so great for wood singing.)
Let's take a closer look at Jen's siding nightmare: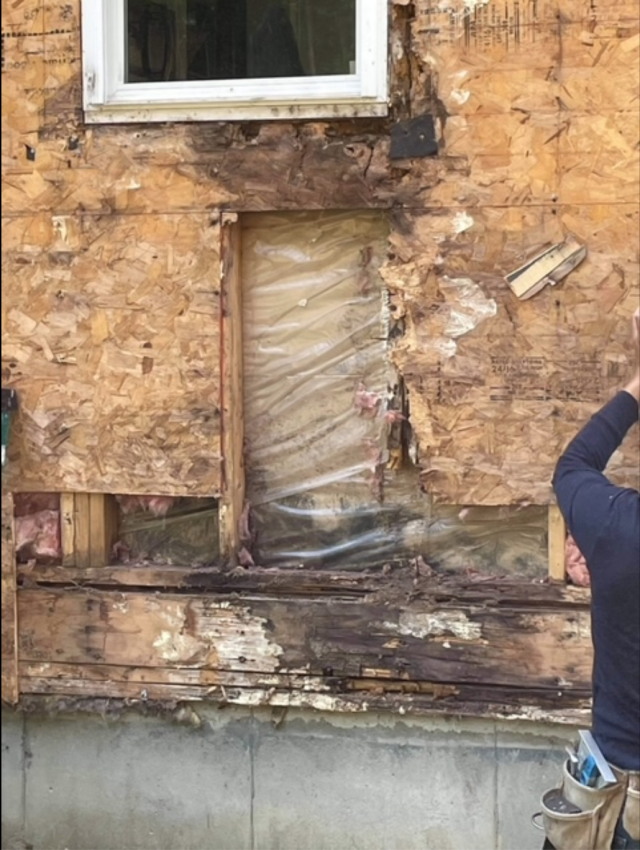 Yikes.
Siding is supposed to act like a home's shield to protect against outdoor elements. Unfortunately, Jen's "shield" had lost the battle with the Central MA weather a long time ago.
But the war was far from over. Jen decided to upgrade to one of the few siding materials that can handle our brutal climate: James Hardie Fiber Cement.
And here are the results…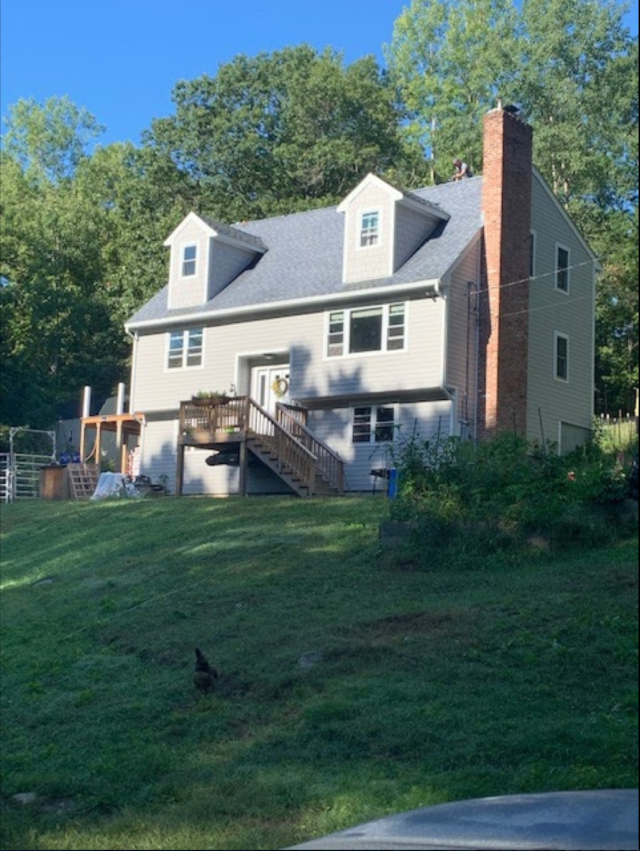 Ta-freaking-da.
Here's what Jen had to say about her siding project:
"We had some exterior repairs done, as well as removing all wood siding and replacing it with Hardie fiber cement siding…. The house looks INCREDIBLE!!
It was great working with Solid State Construction; the people are easy to reach and responsive to any questions or concerns. They are easy to talk to and flexible!
The installers (Norman and his team) are the best — they are super nice and respectful, work diligently while also paying attention to detail and not taking shortcuts, and clean up at the end of each day. My dogs absolutely adore them!
We loved having them work at the house and would absolutely reach out to Solid State for any other projects that might come up."
Review #2: Helene's Siding & Window Replacement
While Helene's home wasn't in as rough a condition as Jen's, she still wanted a makeover to better match her style preferences. Let's take a gander at the before photo.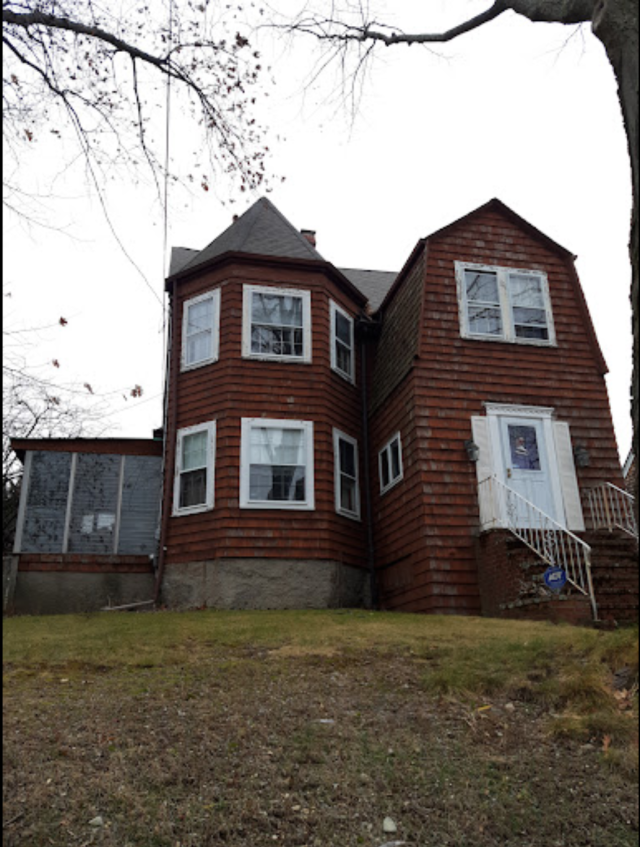 Helene's home is beautiful, no doubt, but her weathered wooden siding seriously brought down the vibe. The two major changes she wanted to make were replacing the siding and then replacing her windows.
After a bit of research on both ends, Helene decided the best choice for her home was James Hardie Fiber Cement Siding (of course) and our awesome ProVia windows. Both of these incredible products significantly increase the curb appeal of any home, have a fantastic Return On Investment (ROI), and immediately raise FNE (Friendly Neighborhood Envy). 
And when you view the after photo, you can see why…
Hello, beautiful.
To achieve these kinds of exterior remodeling results, we've assembled an amazing group of skilled men and women who can complete the task to meet our extremely high expectations. We thoroughly vet each candidate during the hiring process to find the perfect person (i.e., nerd) for the role. 
Instead of filling a role as quickly as possible, we take our time and screen hundreds of applicants before making a final decision. We never stray from our process for each project to go as smoothly as possible. 
Here are Helene's thoughts about her experience and results:
"Solid State Construction did a phenomenal job revitalizing and preserving my beloved (but very weather-beaten) 132-year-old, 3-1/2-story Victorian home with James Hardie siding and 19 ProVia windows!
From my first call to the company, through the creative design consultations via Zoom, the demolition and installation phase led with skill and a keen attention to detail by our Project Manager and his team, Quality Control Consultant, it was clear this talented team not only knew all about James Hardie siding and how to install it but how to do so skillfully and carefully on an older home.
Communication throughout the project was EXCELLENT. Daily texts, regular phone calls, and on-site chats with Brandon ensured my peace of mind as the work progressed.
The window and siding installation crew members were extremely punctual, hard-working, courteous, and respectful. It was heartening to hear the team share my enthusiasm for this project as we watched the house transform from the saddest-looking one on the street to the most beautiful! I highly recommend Solid State."
Review #3: Dan's Siding Replacement Project
Last but certainly not least, we have Dan. Dan called us to upgrade his home's old siding. Here's what it looked like…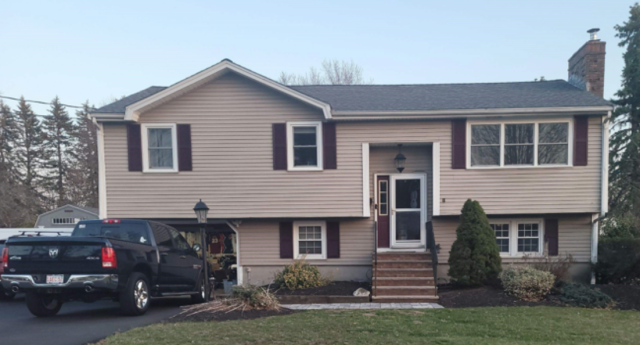 As you can see, Dan's siding was in nowhere near as bad of shape as Jen's and Helene's. But Dan was tired of the bland color and wanted to add some spice.
And add spice we did. We tore off Dan's old siding — plus all of the non-functioning shutters — and replaced it with our premium vinyl siding in a rich, beautiful blue: 
Now THAT'S what I'm talking about.
Here's what Dan had to say…
"We are beyond happy with the siding installation performed by Solid State Construction. The crew assigned to our project from start to finish was professional, knowledgeable, and reliable. The Design process was not rushed, and options were discussed. [The Design Consultant] was not afraid to bring us back to the best place for our house and us based on our goals.
The installation crew was on time every day, worked tirelessly, and treated our property and unique needs like an 'easy' job, and we knew it was not always easy. They had two young puppies to work around and keep safe when they needed to be outside when/where they were working.
A clean/safe environment was left every day the crew was onsite. The regular follow-up during and after the project was completed spoke volumes to us about how the company values its clients. We would highly recommend Solid State."
Ready To Rave About Your Exterior Remodel? Give Us A Call!
We've got plenty more 5-star reviews you can peruse to your heart's content. Once you've gotten your fill of feedback from our raving fans, get in touch. Contact us to jump-start your home remodeling project, or utilize our convenient Virtual Consultation to get the ball rolling.