3 More GLOWING 5-Star Customer Reviews (With Project Photos!)
We're Central MA's Most Trusted Exterior Remodeler… And We've Got The Reviews To Prove It.
BY JEFF BROOKS, OWNER
At Solid State Construction, we LOVE online reviews. They really are the best way to know if a Central exterior remodeler "walks the talk."
I mean, ANY remodeler can say they do awesome work. But when those words come from the remodeler's CUSTOMERS, they mean a whole lot more.
With that in mind, I'm highlighting three of our 5-star Google reviews.  And since a picture is worth a thousand words, these reviews include some seriously striking before and after photos.
If you haven't seen it already, we showcased three other reviews in a similar blog post. Once you've explored this article, check that one.
Let's get started…
Review #1: Eric's HardieBoard Siding Project
Cedar plank wood siding is extremely common on rustic, colonial New England homes. Eric loved how his house looked with natural cedar plank siding, but the downsides of the material itself had him longing for a change. His siding started getting weathered and beaten down in places, and the home's overall curb appeal started to take a nosedive. 
Here's a quick glimpse of what we're talking about:
Eric wanted to maintain his home's real-wood look and feel, but in a material that could last a lifetime. While that may seem like a tall order for many other contractors, it's child's play for us.
When it comes to wood siding alternatives that mimic natural wood, we immediately knew the best solution – HardieBoard Fiber Cement Siding from James Hardie. 
"We hired Solid State Construction to install new siding on our 30-year-old home. We wanted to replace our very dry and cracking vertical cedar siding and researched several local contractors who could install Board and Batten siding, but we selected Solid State as they could install the James HardieBoard Aspire siding vertically.
"The crew arrived and completed the siding removal, re-wrapping, siding installation, and necessary trim replacement within the 2-3 week period that they originally stated.
"Work areas were cleaned after each day, and for the few minor issues that arose, the Site Project Manager Chris was available via cell phone and would arrive to ensure that the crew was on-point with what needed to be done."
Like the shrewd eggheads we are, instead of installing the James Hardie siding panels horizontally, we simply installed them vertically to match the original cedar plank pattern! We absolutely love it when we can apply our proven, streamlined process to age-old dilemmas to give homeowners their dream houses.  
Here's the finished product and a close-up image of Eric's new HardieBoard siding!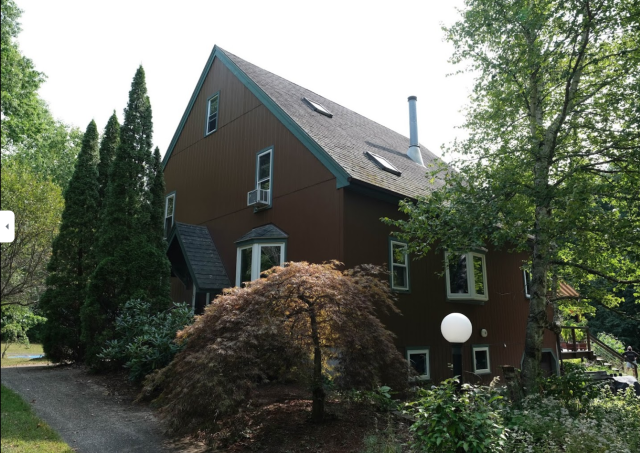 Talk about New England beauty met with 21st-century innovation! We're thrilled Eric ended up with the best of both worlds for his home.
Review #2: Lori's Exterior Remodeling Project
When Lori first reached out to us, she was buzzing with ideas about how she wanted her home to look and feel. For many homeowners, that starts with the exterior of the house.
Having multiple projects going simultaneously is a great way to expedite the remodeling process and can be cheaper than hiring an individual contractor for each task (learn more about replacing siding and roofing together). 
Take a look at Lori's house before she called us in for the job: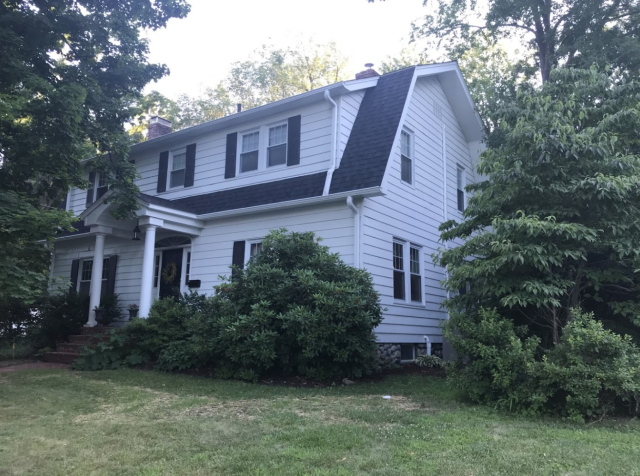 We swapped out Lori's old white vinyl siding with beautiful dark blue James Hardie fiber cement siding, replaced a few windows, and more. 
"Solid State did an awesome job with our siding, window, and door replacement. We hired Solid State to remodel our 99-year-old Dutch Colonial home with Hardie Siding. The house had two layers of siding: the original and 70s aluminum."
"We also replaced two doors and two windows as a part of the project. The Solid State crew was always punctual and hard-working and finished the project in a timely manner, even during a very rainy spring. All questions and concerns were addressed in a professional manner. The house looks beautiful, and I would highly recommend Solid State."
No two remodeling jobs are ever the same, and Lori's house wasn't the first one where we had to deal with multiple types of siding or roofing. We adapt our game plan for the situation, not our bottom dollar. 
So instead of acting like it was a big deal and charging Lori more money, we simply adjusted and returned to work. 
Check out the finished result!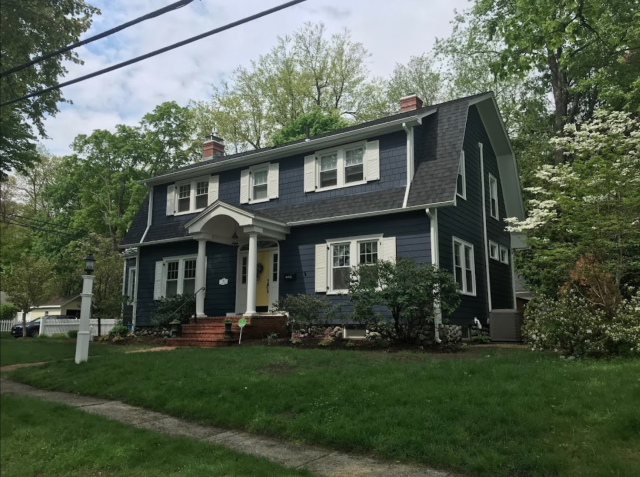 Now THAT is a colonial-style home one would be inclined to have a cup of tea in.
Thanks for the kind words, Lori!
Moving on!
Review #3: Mr. Scott's Home Makeover
Mr. Scott planned on living in his home for many years but was genuinely unhappy with how it looked. Instead of searching for a new one, he knew a few changes could make his home seem fresh again.
Although this isn't the best image, take a look at his home before we got to work:
Shutters used to be extremely common on older homes, and they are still quite popular today. However, the shutters on today's homes are purely for decoration and don't serve any other purpose. Therefore, many homeowners see them as outdated and may wish to eliminate them altogether.
Removing the shutters gave Mr. Scott's home a more modern look and the new siding we installed added that certain touch of elegance he sought.
"Just completed the re-siding of our house with Hardy Plank siding, as well as installation of a sliding glass door out to our deck. Very pleased with the final outcome. The crew repaired several areas of rot which were exposed upon removal of old 40+-year-old siding."
And… bam! Here's how his home turned out!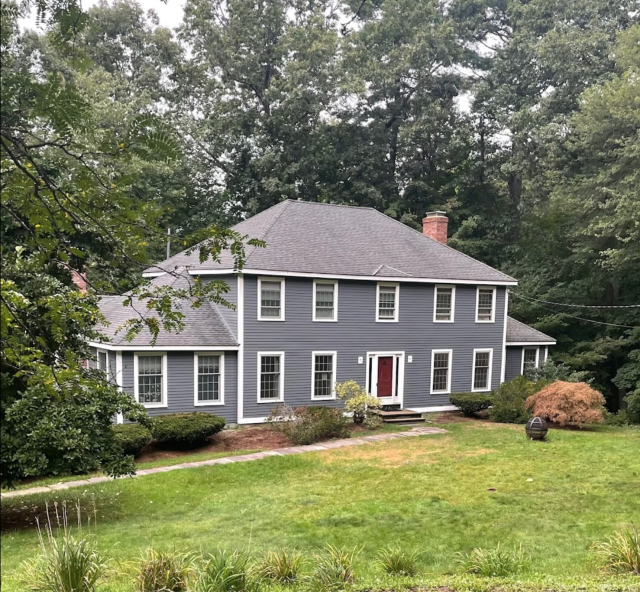 The absolutely stunning new look of Mr. Scott's home is undeniable!
Call Solid State For All Your Remodeling Needs!
We have hundreds of success stories from past customers, and you could be next! Our highly skilled team can handle any remodeling request — any time of the year. If we seem like your type of people, give us a call to see how we can transform your home today.
We can be reached at (508) 506-8938, on our contact page, or via our Virtual Consultation tool.