This Central MA Siding Project Proved A LOT Trickier Than We Thought
The Story Of How We Installed James Hardie Siding On A Home With Concrete Walls.
Not all siding installations are the same. Sometimes it's just a matter of removing the old siding and installing the new—smooth sailing from start to finish.
Other times, we encounter unexpected problems that we have to solve along the way, and the project ends up taking a little longer. This was one of those times.
James Hardie siding is not an easy material to install to begin with, but it is our specialty, and we have the process down to a science.
But when we realized that nearly half of the home's outer walls were made of concrete, we knew we were in for a challenge.
The Shocking Discovery
As soon as we began removing siding, we started to encounter some obstacles. There was wood rot underneath some of it. That's not good, but it's not necessarily a shock. We encounter wood rot ALL the time, and we DO know how to handle it.
What we really weren't prepared for was the concrete that made up a large part of the back exterior of the home.
Apparently, neither was the homeowner. She had never tried to install siding on those walls and didn't know they had been encased in a thick layer of concrete.
We knew we couldn't proceed as usual, which meant the project was going to take longer…and cost more than we initially thought.
Luckily, she was very understanding about it…after she got over the initial shock. She even provided our team with an entire snack bar every day! Our team appreciated it A LOT, especially the coffee as the weather started getting chilly.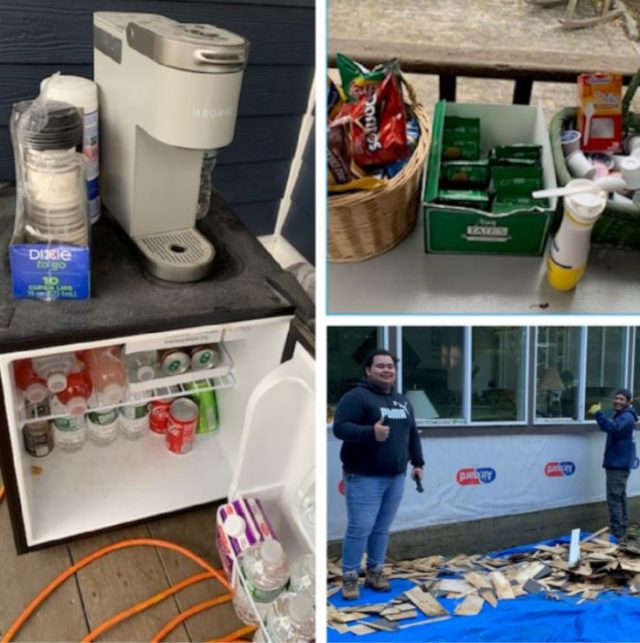 How We Did It
We knew we couldn't approach this James Hardie siding installation like any other. We had to do things differently. There's just no way to secure fiber cement siding to a 4-inch thick concrete wall….
So, we came up with a plan. With some 2 X 4's, some plywood panels, and some clever engineering, we crafted an additional layer of wood, so we could properly install the beautiful blue siding she had picked out.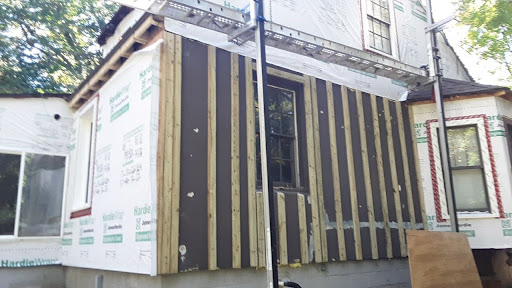 It worked perfectly. When all was said and done, the siding looked amazing. The home looked better than before, but also looked as though it had been designed that way from the beginning.
We were thrilled and so was she.
The other major challenge was her bay window. It was a great looking feature of the home, but the wood underneath was rotted, and it was going to be a major challenge to install the siding around it.
Ultimately, she thought it was best to keep the angled window intact, and we agreed. We removed the rotted wood and installed an additional ledge underneath, to provide extra support.
The window looks great..better than it did before, but it kept its original design and charm.
A Job Well Done And Another Friend Made
This project was a challenge, and it took a little longer than expected. That being said, it was one of our favorite projects, and the end result was gorgeous. From what we've heard, some of the neighbors have even been considering James Hardie for their homes.
If you are interested in new siding for your home, we would be honored if you give us a call to schedule a virtual consultation.
Other Articles You'll Find Interesting: