A Look At Our Painstaking Attic Ventilation Inspection Process.
Attic Ventilation Is Critically Important… And We're The Rare Central MA Roofer Who Treats It That Way.
Attic ventilation is an extremely important part of roof replacement. It's also the part of roof replacement that contractors most often get wrong… or ignore altogether.
We explain this in our article here: Why Most Central MA Roofers Mess Up Attic Ventilation. As such, we won't go into a lot of detail about how roofing companies drop the ball in this article. Instead, we'll discuss how we at Solid State Construction get attic ventilation RIGHT.
Vetting Your Attic Ventilation
Attic ventilation is all about BALANCE. Your attic needs not only enough ventilation to cover the size of the space—it also needs the intake ventilation and exhaust ventilation to be equal.
To ensure we achieve this equilibrium when we replace your roof, we perform a thorough Attic Ventilation Analysis during your roof inspection. We utilize a comprehensive checklist during our analysis to make certain we consider EVERYTHING.
Here is the checklist…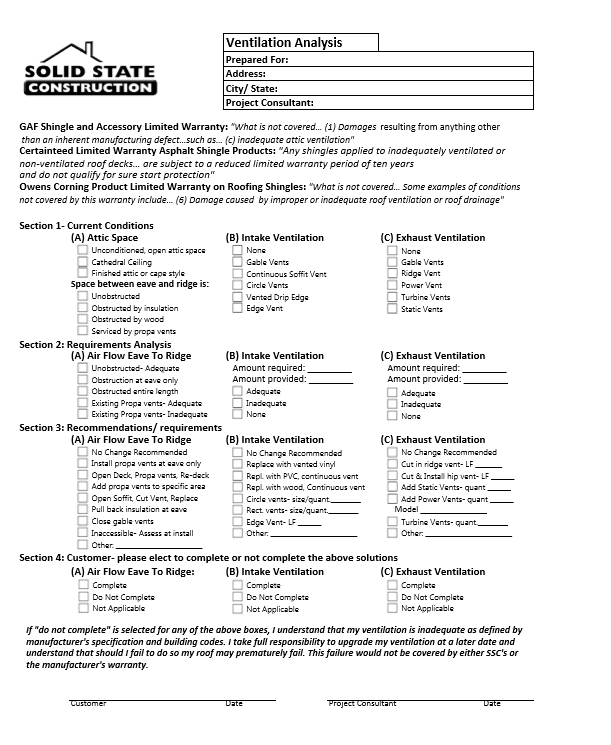 Let's look at our Attic Ventilation Analysis checklist section by section.
Section 1: Current Conditions
We assess four aspects in this phase …
Attic Space: The type of attic your home has
Current Intake Ventilation: The type of intake ventilation your attic has
Current Exhaust Ventilation: The type of exhaust ventilation your attic has
Space Between Eave And Ridge: To see if your ventilation is being blocked by items like wood or insulation
Assessing your current attic ventilation allows us to complete Section 2 of our analysis checklist.
Section 2: Requirements Analysis
While the first section determines what TYPE of ventilation you have, this second section assesses the AMOUNT you need. It breaks down into these three categories…
Air Flow Eave To Ridge: The amount of airflow that's passing between the eaves and ridge, and whether that airflow is adequate
Intake Ventilation: The amount you currently have and the amount you need
Exhaust Ventilation: Same as above
Drilling down these numbers allows us to make the proper recommendation for your attic ventilation, which is what Section 3 is for.
Section 3: Recommendations/Requirements
Different attics have different ventilation requirements—what's right for one attic may be a disaster for another.
That's why this section goes into in-depth detail about the exact ventilation setup you need…
Air Flow Eave To Ridge: We determine the right system you need for proper airflow
Intake Ventilation: If your current intake ventilation needs to be updated, we ascertain the proper system
Exhaust Ventilation: Exhaust ventilation comes in several types—we pinpoint the RIGHT one that YOUR home needs
Once we've completed Sections 1-3, we review our findings with you in Section 4.
Section 4: Customer Confirmation
We're the experts that analyze your attic ventilation and recommend the proper solution. But at the end of the day, it's YOUR choice as to how to proceed.
We're a contractor that's all about customer education—not obnoxious solicitation. "Sales Gangsters" don't exist at Solid State Construction.
That means the ultimate decision-maker is YOU, the homeowner. Even after we put your attic "under the microscope," you are under ZERO obligation to do business with us. (Though we do happen to be in the top 3% of roofing installers in the country!)
If you need roof replacement done right in Central MA, reach out to us today. We would be honored to provide you with a free roof inspection and quote.