Hello, and welcome to the Solid State Construction blog.
We're a trusted long-time exterior remodeling company here in the Central MA or Greater Boston areas.
In today's article, we're chatting about residential wood decks and how long they tend to last in our region. Afterward, we'll compare wood decks with the #1 wood-alternative decking systems on the market.
The good news is we specialize in both. For wood, we typically stick with cedar, mahogany, and pressure-treated wood. For composite, we have a long, rich history with TimberTech® AZEK decking.
That said, here's the bad news:
"No wood deck lasts forever. Even with the most dedicated and regular maintenance schedule… time and Mother Nature will inevitably take their toll."
When you consider the lifespan of a wood deck, start by seeing it as two interconnected sections:
The Deck's Framing
The Decking / Boards — Railing, Core Posts, Stairs, etc.
This image from one of our decking projects is the perfect visual to demonstrate the point: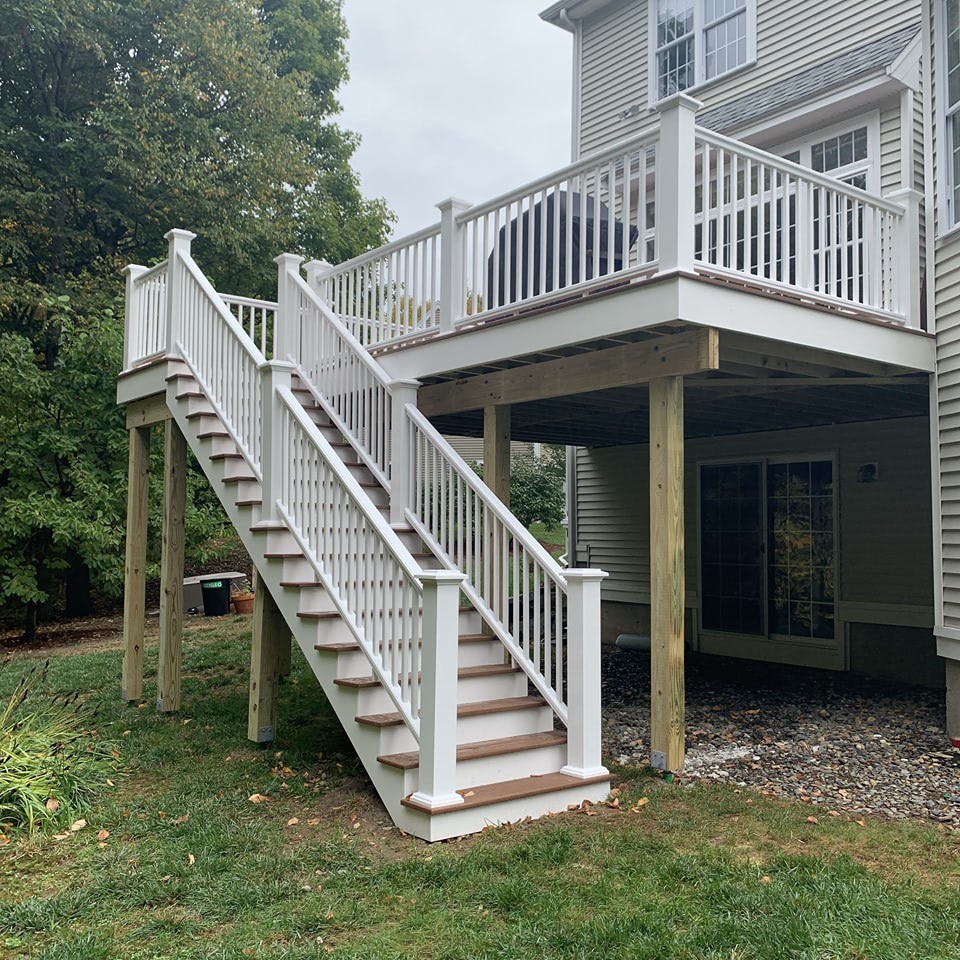 You can have impeccably installed deck framing that will last a LONG… long time, while the decking system above begins to fail and look ragged in a couple of years. Or, you can have absolutely gorgeous decking with a subpar frame that won't make it more than a decade in tip-top condition.
Ultimately your decking investment and how long it will last depends on the installer you choose (contractor/builder) and the material they're using.
Let's look at some common woods in decking, but as we do, keep this in mind:
"Wood decking requires regular maintenance, cleaning, re-sealing, and upkeep to get the most time and value out of the investment."
Cedar (Can Last 20-40 Years)
This is an extremely common wood for residential projects like decks, fencing, sheds, etc. The wood naturally retains less moisture, which means less rot. On the flip side, it requires annual resealing, lots of cleaning, and it's not an excessively pet or family-friendly wood. It scratches easily!
Pine (Can Last 20-30+ Years)
Deck builders love pine because it's an easier wood to work with: cutting, staining, carving, and most importantly, NAILING into place. Some woods take nails better than others. Pine is also decay and rot-resistant while looking great.
Redwood (Can Last 20-30+ Years)
This wood is very durable. It's known for holding its shape, showing less warping and cupping over time, and being resistant to decay. For homeowners, the wood holds protective finishes longer and tends to require less maintenance.
Mahogany (Can Last 40+ Years)
This wood is stunning and like redwood, is known for requiring less maintenance than its cedar or pine cousins. Mahogany is also more scratch-resistant, moisture resistant, and less likely to warp, shrink, swell, or twist.
Pressure-Treated Lumber (Can Last 50 Years)
Because the wood is treated with preservatives, it boosts the wood's natural resistance to moisture, rot, and insects.
In our neck of the woods, we prefer pressure-treated southern pine because it's perfectly suited for Central MA.
Five Major Considerations For Wood Decking
The Location: If you have a wood deck, you want to strike a good balance between time in the shade and time in the sun. Too much of one or the other leads to problems. You want enough sun, so your wood dries out quick enough, but not so much that your sealer and coatings get weathered far too soon.
The Quality Of Your Wood: Just like pretty much everything else in life, when it comes to your decking material, the higher the quality, the better. This means you pay more upfront but get more longevity and a better investment in the long run. The lower the quality, the shorter the lifespan of your decking will be. You want perfect boards — no defects, cupping, twisting, or knots that degrade structural rating.
Distance From Ground: If your installer puts the deck too close to the ground, an overabundance of moisture and lack of ventilation are going to do a number on that wood!
The Treatment Or Coating: Like the quality of your wood, you want any treatment products to be premium-grade as well.
Regional Weather: Annual weather here in the Greater Boston area can be both brutal and absolutely wonderful! You and your builder should have a discussion about which types of wood and treatments they use.
Now, let's briefly look at the best wood decking alternative – TimberTech.
Over the years, we've found that it provides the most benefits to our customers while at the same time providing the aesthetic values of wood.
Benefits Of TimerTech Azek Composite Decking
Made of a blend of wood fibers and recycled plastic that accepts paint or stain.
Low-maintenance material that doesn't need annual sealing; won't splinter or rot.
Engineered to outlast wood, while offering an authentic hardwood appearance.
Proprietary modern treatments to prevent fading, weathering, and ugly stains.
A wide range of color choices, variegation options, and wood grain patterns.
Premium polymer capping material protects against mold and moisture damage.
Composite decking won't splinter, crack, or warp.
Stays up to 30-degrees cooler than competing composite materials.
Over the years, the company's ability to mimic wood has gotten better and better! The picture below is taken directly from their 2020 Catalogue, to show you how natural they make the grains these days.
Our builders love the versatility of their boards as well. The image below shows you their range from narrow to wide, with a standard 5.5'' as the middle ground.
What's the big differentiator between real wood and composite decks? Maintenance. Composite decking requires substantially less to last as long as high-quality wood. In second place would be styling. With wood, there's really no limit to what you can do, but with composites you're going to choose from beautiful-popular styles.
Without going too deeply into them, here is how the TimberTech collections breakdown and the type of coverage you get.
50-Year Fade & Stain/Limited Lifetime Product
Being a full composite, you get the look of wood without any of its weaknesses. This includes up to 40% better slip resistance, it stays cooler, and moisture poses almost no threat whatsoever.
Vintage Collection
Landmark Collection
Harvest Collection
30-Year Fade & Stain/30-Year Product
TimberTech Pro: 4-Sided Capped Composite Decking
These collections are another great option because the premium decking boards are completely covered (including grooves) with advanced Mold Guard® treatments to prevent moisture damage.
Legacy Collection
Reserve Collection
Terrain Collection
25-Year Fade & Stain/25-Year Product
Their most affordable lines are known for being long-lasting, requiring almost NONE of the normal maintenance of wood decking, and looking great! And no matter which line you go with, you've got plenty of options and accessories to customize.
Premier Collection
Prime+ Collection
Wrapping Up: Wood Decks Can Last 20-50 Years | Consider Composite Alternatives!
Those are the basics of how long wood decks last in the Greater Boston area. Although, you could apply this information to decking across the country as well. Hopefully this is helping you in your research!
If you're a homeowner in Central MA and would like to talk with a professional, Contact Solid State Construction. We're happy to answer questions, address concerns, or schedule you to meet with a Project Consultant. Thanks so much for your time today.