Picture-Proof Some Central MA Contractors Shouldn't Install James Hardie Siding
4 Examples That Show Why Only TRUE Professionals
Can Handle James Hardie Siding.
BY JEFF BROOKS, OWNER
I can tell you plenty of horror stories about contractors botching James Hardie fiber cement siding installation in Central MA. But it's easier—and more fun!—to just show you. So today, I'm sharing four examples of how remodeling companies get Hardie installation WRONG.
Why shine a spotlight on other companies' blunders? It's simple. While James Hardie is the best siding on the planet, it's a beast to install.
The installation best-practices manual is over 130 pages. If a contractor doesn't follow every word of it to the letter, they can ruin your new Hardie siding's massive potential.
With that in mind, here are a few egregious examples of remodeling contractors mangling Hardie installation…
Bad Hardie Install #1: Improper Cut And Cut Edge Not Sealed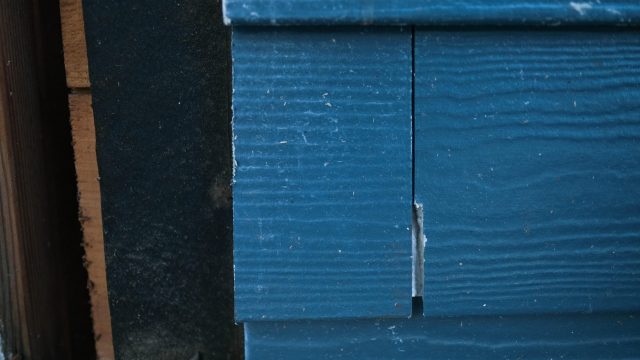 You can see a couple problems in this photo.
First, the siding's edge isn't sealed. If your contractor doesn't seal those edges, the siding will experience weather-related damage sooner rather than later.
Second, the contractor didn't cut the panels straight. That huge gap is more than an eyesore—it will lead to severe water damage and sooner, rather than later.
If your contractors can't even cut straight lines, you are in for some trouble. Their lack of precision can cost you tons of money down the line. A gap like this will allow large amounts of water to seep in, wreaking havoc on your siding, trim, and anything else it touches.
Bad Hardie Install #2: No Blocks Behind Pipes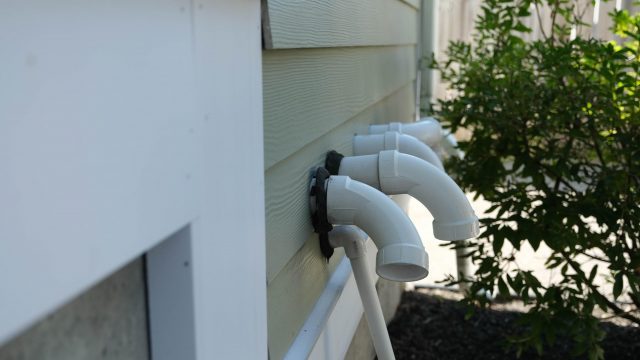 The reason these pipes look awkward is that they are sticking straight out of the siding. This is wrong. A small piece of paneling called a trim block should be used to secure the pipe to the wall, so it does not come into direct contact with the siding.
But wait, there's more! The trim in this picture is also flawed. Instead of using proper one-inch trim, whoever installed this used ¾ inch trim. That wasn't their only mistake with the trim, though….
The siding is proud to the trim, when the opposite should be the case. That is to say, the siding should not stick out further than the trim. The trim should always protrude further than the siding. It's kind of the point.
These are all striking examples of how skimping on materials and cutting corners can end up costing you money down the line and hurt your home's value and aesthetic appeal in the here and now.
Bad Hardie Install #3: Poor Seam Placement
This one is self-explanatory. Notice how the seams are all in a row and how that looks awkward and tacky? That is not the right way to do seam placement, regardless of the type of siding you are using.
The better (correct) way to do this is to stagger the placement of the seams, so they do not appear in the same place every other row. Oftentimes, the pattern will repeat every fourth row. This will allow the seams to blend into the siding in a way that is much more aesthetically pleasing than what you see here.
This issue is not likely to lead to water damage and other serious problems like some of the other mistakes featured here. It mainly indicates the siding was installed by amateurs or contractors who were just too lazy to take the time to do it right.
Bad Hardie Install #4: Wrong Sealant At Siding To Trim
Here you can see there is a gap between the siding and the trim. This space SHOULD have been sealed with special OSI Quad Max sealant, rendering the gap all but invisible.
They simply did not seal it properly. If they had, there would be no visible gaps for water to seep into. One likely cause is the failing to use the right kind of sealant, if they used any at all. This is a ROOKIE mistake, in the world of James Hardie.
Using the proper OSI Quad Max sealant is incredibly important during a James Hardie fiber cement siding installation. What is the point of installing top-quality siding, if you are just going to seal it with cheap painter's caulk? That stuff will last five years… if you're lucky. When installed right, James Hardie Fiber Cement Siding will last for decades.
Why We're The Hardie Installer You Can TRUST
At Solid State Construction, our installers respect the work and will respect your home.
Our extensive, in-house training ensures that no one will set foot onto a jobsite without having practiced and trained on our own model house in our company warehouse, affectionately known as the "bat cave." It's why we're one of only 20 companies in the COUNTRY selected for James Hardie's President's Club.
If you are interested in what James Hardie Fiber Cement Siding could do for your Central MA home, give us a call for a free consultation. We would be honored to help you improve and protect your home.